TOM YUM SOUP
Date: Dec 14, 2018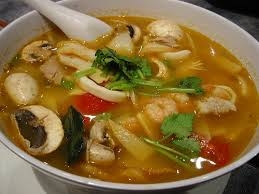 Ingredients - For 2 serving
1 tea spoon extra virgin coconut oil
2 stalk lemon grass(remove the outer first 2 layers and cut in slice)
1 onion (chopped)
4 cloves of garlic(finely chopped)
2 inch galangal(Thai ginger) peel and chopped
4 cups vegetable stock or water
2 red chilli peppers(smash each lightly)
6-7 kaffir lime leaves
6-7 mushroom(washed and cut into pieces)
2 tomatoes(cut into pieces)
2 tsp spoon lime juice
2 tsp organic light soy sauce
2 cup Zucchini (peeled and cut into pieces)
cilantro, green onion, and lime wedges for garnish
Method
Heat oil in a pan add onion and garlic, saute for a min.
Add chopped mushroom, zucchini, tomatoes. mix well and saute for a minute. Add veg stock or water. now add the slice of lemon grass, galangal and red chillies. Tear kaffir leaves and add them. Add salt and mix, cover the pan with the lid and simmer on low medium flame till veggies are tender and cooked well. Add soy sauce, mix well and simmer tom yum soup, switch flame, add lime juice for a less sour taste, garnish with cilantro and green onion and serve.
Note:- while serving tom yum soup remove the lemon grass stalks, red chilli, kaffir lime leaves and galangal. These can not be chewed. so do make sure not to finely slice or chop them.