Udon hearty noodle
Date: Oct 28, 2020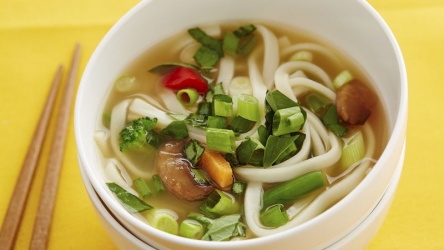 Serve 2
Ingredients
a small portion boiled wheat or udon noodles
1/2 cup shredded cabbage,
1/3rd cup shredded carrots,
1/3rd cup thinly sliced french beans
1/3rd cup thinly sliced capsicum.
1/2 teaspoon finely chopped garlic
1/4th cup chopped spring onions.
2 tsp olive oil
salt pepper to taste
4 cups of water
1 tsp lemon juice or vinegar
1 tsp chopped green chilly ( optional)
for garnishing
1 tbsp spring onion greens
1 tbsp chopped green coriander
Method.
Take olive oil in pan,add chopped garlic and cook on a low flame till become golden brown. Then add spring onion and saute on medium flame. Add all shredded veggies, mix well and stir for few mins. Add water and bring the soup to boil on medium flame.Add salt and pepper. Then add noodles and mix well. simmer noodle soup for 2 mins.Add vinegar/ lemon juice and switch off the flame.Add spring onion greens and coriander greens. serve hot.