Vegan mushroom risotto
Date: Oct 9, 2020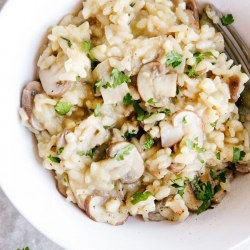 Ingredients
1/2 cup Arborio Rice
1 cup sliced mushrooms
2 tsp sliced garlic
1/2 cup coconut milk
1 cup water or vegetable stock
salt and pepper to taste
1 chopped,spring onion with greens
1 tsp olive oil

Method

Take a heavy bottom vessel,add oil,garlic and saute untill brown.Add mushroom and saute till it half cooked.Now add spring onion and stir for 1-2 mins.Add rice and mix well.Then water or vegetable stock, cover with a lid and cook untill rice soften. If needed add a little more water cook untill all the water get absorbed.Now add coconut milk, salt and pepper. Stir well, cover it and cook for 5 mins.Now switch off the gas stove and leave it for sometime till all the coconut milk is absorbed and the appearance looks creamy.