Vegan quinoa mango 🥭 pancake
Date: Jun 17, 2020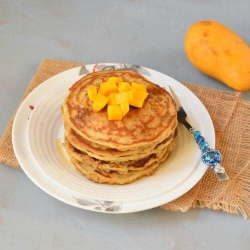 Ingredients

1/4 cup mango puree
1/4 cup almond milk
1/2 cup quinoa flour
1/4th tsp baking soda
1 tsp baking powder
1/2 tsp fennel seed
a pinch of salt
2 tsp extra virgin coconut oil/olive oil

Method

Blend mango puree and almond milk in a bowl. In another bowl mix quinoa flour,baking soda,baking powder,a pinch of salt, fennel seed and a tsp oil. Mix them well,add the mango puree mixture and make a thick batter.
Now take a skillet grease little oil and spread small portion of the batter and cook.then turn upside down and cook other side too. Your pancake is ready to serve.