Vegetable Tofu Soup
Date: Jul 5, 2018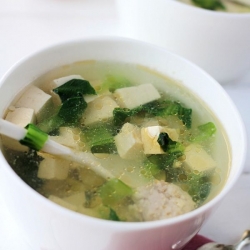 Ingredients
· 150 gm mushroom
· 1 tsp olive oil
· 2 green onions thinly sliced 2 cups water 1 cups chopped cabbage leaves
· 70gm soft tofu drained and cut into cubes
· Salt and white pepper to taste
Instructions
1. Cut mushroom and keep aside.
2. In a soup pan, heat the oil over medium heat. Stir-fry light green parts of green onions until soft, about 1 minute.
3. Add water and turn the heat to high. Bring the mixture to a boil. Add cabbage a pinch of salt; cook for about 2 minutes.
4. Add mushroom and tofu and cook for 1 minute. Add salt and white pepper to taste.
5. Soup is ready, serve hot.