Veggie Hummus Wrap
Date: May 18, 2018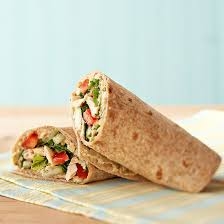 Ingredients- 1 cup beans
2 garlic cloves
3tbsp fresh squeezed lemon juice
¼ tea spoon ground cumin and salt
1 cup shredded lettuce
¼ cup long cut carrots and bell pepper
¼ cup grape or cherry tomatoes, coarsely chopped
¼ cup coarsely chopped pitted olives
1 table spoon crumbled reduced fat feta cheese
2 (8 inch) flour chapatti, warmed
Prepare hummus- place beans, garlic, lemon juice, water, cumin and salt in ablender of food processor; process until smooth, scraping sides of bowl once; set aside prepare lettuce carrots, bell peppers, oives and feta cheese, set aside.
Take a thin chapatti and warm it:
Spread ¼ cup prepared hummus over the top of each chapatti. Divide prepared lettuce, carrots bell peppers, tomatoes, olives and feta cheese evenly over the chapatti.
Fold top and bottom of each tortilla toward centre, roll up burrito – style.