winter special Odisha "Dalma"
Date: Dec 21, 2022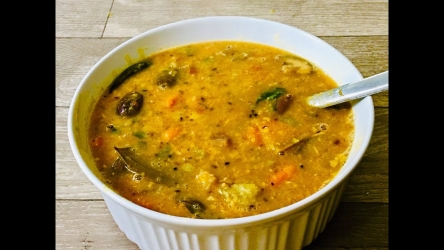 Ingredients
30g Arhar dal
1/2 brinjal, cut into big pieces
70 g pumpkin- cut into big pieces
2-3 beans, cut into long slices
1/2 a carrot, peeled and cut into 4 pieces
1 small potato, peeled and cut 4 pieces
1/2 raw banana, peeled and cut into 4 pieces
1/2 onion, chopped
1 small tomato, chopped
1 dried red chilly
1/3 tsp mustard seeds
1/3 tsp zeera
1 bay leaf
1/2 tsp roasted cumin powder
1/2 tsp garam masala.
2-3 pinches hing
1/2 tsp minced ginger
1 tsp mustard oil.
1/4 tsp turmeric powder
Method:
Pressure cook arhar dal and all veggies except tomato and onion with water. Put little salt and turmeric powder also.
Take a heavy bottom vessel and heat it. Add oil, mustard seeds and cumin seeds wait till it crackle. Add, dried red chilly, bay leaf , minced ginger and hing and stir for few seconds. Add chopped onion and stir till little brown then add tomato and stir . add little salt and garam masala and mix well. Now add the cooked dal and vegetables to it and mix well. Add little water to adjust the consistency. Bring it to just one boil.
Serving suggestion: serve Dalma with rice or quinoa.