winter treat - dates ladoo
Date: Feb 6, 2023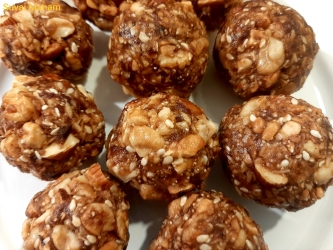 Ingredients
1 cup Seedless Dates
1/4 cup Chopped Cashew nuts
1/4 cup Chopped Almond
1 Tbsp Chopped pistachios
1/2 tsp roasted fenugreek powder
1 tsp Ghee
Method
Wash and chop dates roughly. Grind to a coarse paste. Set aside.
Heat ghee in a kadai and roast the nuts for a minute.
Lastly add ground dates and fenugreek powder. Mix well till it becomes a whole mass.
Remove and cool down. Grease hands with ghee.
Make balls and arrange the ladoo in a plate.